textProjection(): Pre-process data for plotting
library(

text

)



# Pre-process word data to be plotted with textPlotViz-function




# wordembeddings4 and Language_based_assessment_data_8  contain example data provided with the package.





# Pre-process data




df_for_plotting

 

<-

 textProjection(

Language_based_assessment_data_8

$

harmonywords

,
                                

wordembeddings4

$

harmonywords

,
  

wordembeddings4

$

singlewords_we

,
  

Language_based_assessment_data_8

$

hilstotal

, 

Language_based_assessment_data_8

$

swlstotal


)


df_for_plotting
textProjectionPlot(): A two-dimensional word plot
library(

text

)


# Used data (DP_projections_HILS_SWLS_100) has




# been pre-processed with the textProjection function




plot_projection

 

<-

 textProjectionPlot(
  

word_data

 

=

 

DP_projections_HILS_SWLS_100

,
  

k_n_words_to_test

 

=

 

FALSE

,
  

plot_n_words_square

 

=

 

5

,
  

plot_n_words_p

 

=

 

5

,
  

plot_n_word_extreme

 

=

 

1

,
  

plot_n_word_frequency

 

=

 

1

,
  

plot_n_words_middle

 

=

 

1

,
  

y_axes

 

=

 

TRUE

,
  

p_alpha

 

=

 

0.05

,
  

title_top

 

=

 

" Supervised Bicentroid Projection of Harmony in life words"

,
  

x_axes_label

 

=

 

"Low vs. High HILS score"

,
  

y_axes_label

 

=

 

"Low vs. High SWLS score"

,
  

p_adjust_method

 

=

 

"bonferroni"

,
  

points_without_words_size

 

=

 

0.4

,
  

points_without_words_alpha

 

=

 

0.4


)


plot_projection




#> $final_plot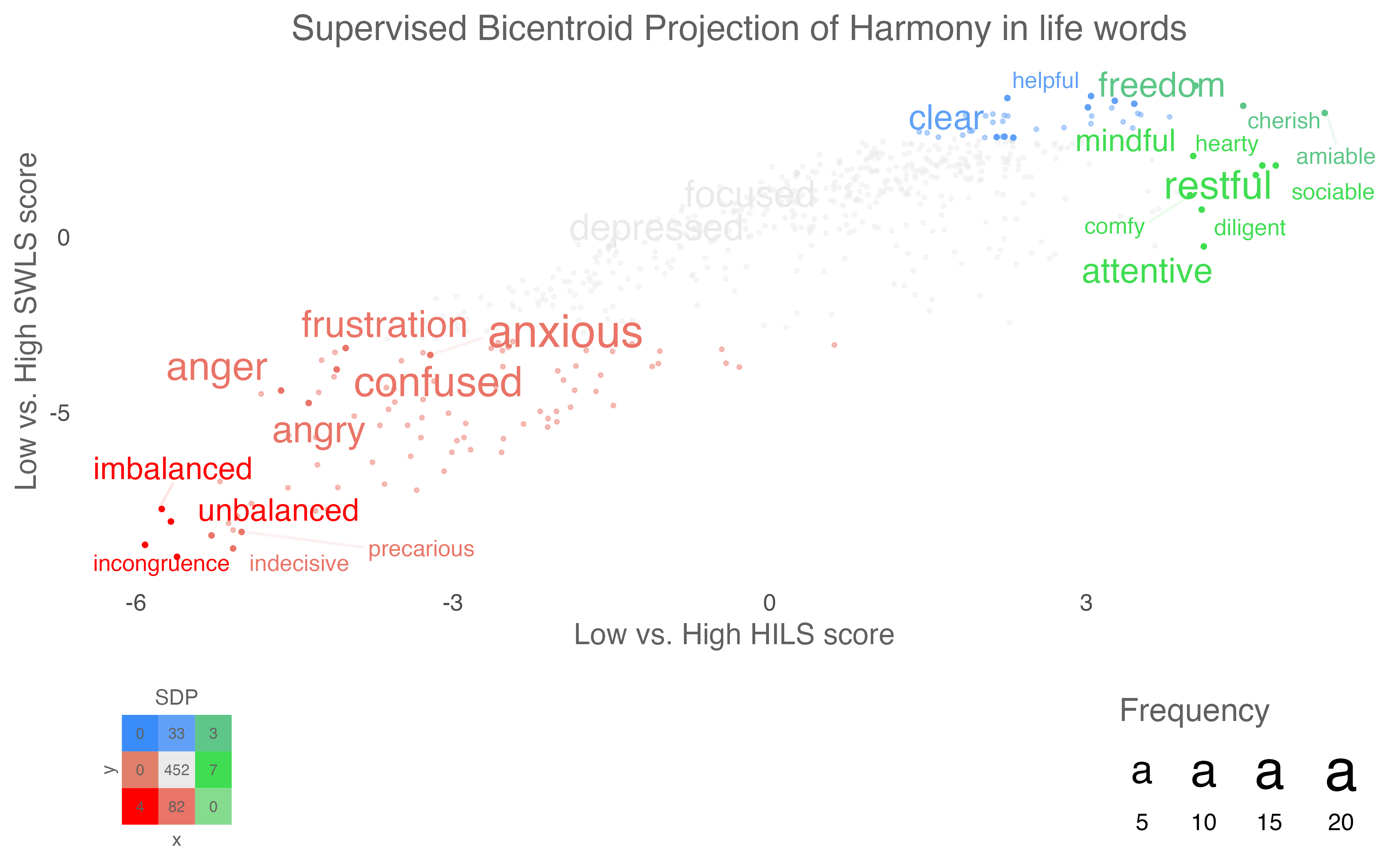 #> 
#> $description
#> [1] "INFORMATION ABOUT THE PROJECTION words = $ wordembeddings = Information about the embeddings. textEmbedLayersOutput:  model: bert-base-uncased layers: 11 12 . textEmbedLayerAggregation: layers =  11 12 aggregate_layers =  concatenate aggregate_tokens =  mean tokens_select =   tokens_deselect =   single_wordembeddings = Information about the embeddings. textEmbedLayersOutput:  bert-base-uncased layers: 11 12 . textEmbedLayerAggregation: layers =  11 12 aggregate_layers =  concatenate aggregate_tokens =  mean tokens_select =   tokens_deselect =   x = $ y = $ pca =  aggregation =  mean split =  quartile word_weight_power = 1 min_freq_words_test = 0 Npermutations = 1e+06 n_per_split = 1e+05 words = Language_based_assessment_data_8_100 wordembeddings = Information about the embeddings. textEmbedLayersOutput:  model: bert-base-uncased layers: 11 12 . textEmbedLayerAggregation: layers =  11 12 aggregate_layers =  concatenate aggregate_tokens =  mean tokens_select =   tokens_deselect =   single_wordembeddings = Information about the embeddings. textEmbedLayersOutput:  bert-base-uncased layers: 11 12 . textEmbedLayerAggregation: layers =  11 12 aggregate_layers =  concatenate aggregate_tokens =  mean tokens_select =   tokens_deselect =   x = Language_based_assessment_data_8_100 y = Language_based_assessment_data_8_100 pca =  aggregation =  mean split =  quartile word_weight_power = 1 min_freq_words_test = 0 Npermutations = 1e+06 n_per_split = 1e+05 words = harmonywords wordembeddings = Information about the embeddings. textEmbedLayersOutput:  model: bert-base-uncased layers: 11 12 . textEmbedLayerAggregation: layers =  11 12 aggregate_layers =  concatenate aggregate_tokens =  mean tokens_select =   tokens_deselect =   single_wordembeddings = Information about the embeddings. textEmbedLayersOutput:  bert-base-uncased layers: 11 12 . textEmbedLayerAggregation: layers =  11 12 aggregate_layers =  concatenate aggregate_tokens =  mean tokens_select =   tokens_deselect =   x = hilstotal y = swlstotal pca =  aggregation =  mean split =  quartile word_weight_power = 1 min_freq_words_test = 0 Npermutations = 1e+06 n_per_split = 1e+05 INFORMATION ABOUT THE PLOT word_data = DP_projections_HILS_SWLS_100 k_n_words_to_test = FALSE min_freq_words_test = 1 min_freq_words_plot = 1 plot_n_words_square = 5 plot_n_words_p = 5 plot_n_word_extreme = 1 plot_n_word_frequency = 1 plot_n_words_middle = 1 y_axes = TRUE p_alpha = 0.05 p_adjust_method = bonferroni bivariate_color_codes = #398CF9 #60A1F7 #5dc688 #e07f6a #EAEAEA #40DD52 #FF0000 #EA7467 #85DB8E word_size_range = 3 - 8 position_jitter_hight = 0 position_jitter_width = 0.03 point_size = 0.5 arrow_transparency = 0.5 points_without_words_size = 0.4 points_without_words_alpha = 0.4 legend_x_position = 0.02 legend_y_position = 0.02 legend_h_size = 0.2 legend_w_size = 0.2 legend_title_size = 7 legend_number_size = 2"
#> 
#> $processed_word_data
#> # A tibble: 583 x 32
#>    words  dot.x p_values_dot.x n_g1.x n_g2.x  dot.y p_values_dot.y n_g1.y n_g2.y
#>    <chr>  <dbl>          <dbl>  <dbl>  <dbl>  <dbl>          <dbl>  <dbl>  <dbl>
#>  1 able   1.42      0.0140         NA      1  2.99      0.00000100     NA      1
#>  2 acce…  0.732     0.105          -1      2  1.40      0.0291         -1      2
#>  3 acco…  2.04      0.000409       NA      1  3.45      0.00000100     NA      1
#>  4 acti…  1.46      0.0121         NA      1  1.92      0.00399        NA      1
#>  5 adap…  2.40      0.00000100     NA      1  0.960     0.0865         -1     NA
#>  6 admi…  0.161     0.734          NA      1  1.58      0.0150         NA      1
#>  7 adri… -2.64      0.00000100     -1     NA -3.17      0.00000100     -1     NA
#>  8 affi…  1.03      0.0402         NA      1  2.24      0.00115        NA      1
#>  9 agre…  1.62      0.00657        NA      1  2.12      0.00161        NA      1
#> 10 alco… -2.15      0.00000100     -1     NA -1.78      0.00414        -1     NA
#> # … with 573 more rows, and 23 more variables: n <dbl>, n.percent <dbl>,
#> #   N_participant_responses <int>, adjusted_p_values.x <dbl>,
#> #   adjusted_p_values.y <dbl>, square_categories <dbl>, check_p_square <dbl>,
#> #   check_p_x_neg <dbl>, check_p_x_pos <dbl>, check_extreme_max_x <dbl>,
#> #   check_extreme_min_x <dbl>, check_extreme_frequency_x <dbl>,
#> #   check_middle_x <dbl>, extremes_all_x <dbl>, check_p_y_pos <dbl>,
#> #   check_p_y_neg <dbl>, check_extreme_max_y <dbl>, check_extreme_min_y <dbl>,
#> #   check_extreme_frequency_y <dbl>, check_middle_y <dbl>,
#> #   extremes_all_y <dbl>, extremes_all <dbl>, colour_categories <chr>
Relevant References
Text is new and has not been used in a publication yet. therefore, the below list consists of papers analyzing human language in a similar fashion that is possible text.
Methods Articles
Gaining insights from social media language: Methodologies and challenges.
Kern et al., (2016). Psychological Methods.
Semantic measures: Using natural language processing to measure, differentiate, and describe psychological constructs. Pre-print
Kjell et al., (2019). Psychological Methods.
Clinical Psychology
Facebook language predicts depression in medical records
Eichstaedt, J. C., … & Schwartz, H. A. (2018). PNAS.
Social and Personality Psychology
Personality, gender, and age in the language of social media: The open-vocabulary approach
Schwartz, H. A., … & Seligman, M. E. (2013). PloSOne.
Automatic Personality Assessment Through Social Media Language
Park, G., Schwartz, H. A., … & Seligman, M. E. P. (2014). Journal of Personality and Social Psychology.
Health Psychology
Psychological language on Twitter predicts county-level heart disease mortality
Eichstaedt, J. C., Schwartz, et al. (2015). Psychological Science.
Positive Psychology
The Harmony in Life Scale Complements the Satisfaction with Life Scale: Expanding the Conceptualization of the Cognitive Component of Subjective Well-Being
Kjell, et al., (2016). Social Indicators Research
Computer Science: Python Software
DLATK: Differential language analysis toolkit
Schwartz, H. A., Giorgi, et al., (2017). In Proceedings of the 2017 Conference on Empirical Methods in Natural Language Processing: System Demonstrations